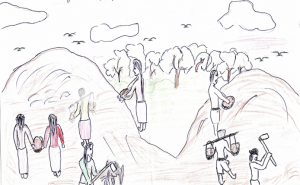 Our indefatigable intern Seavyi has recently launched an exciting new project called Khmer Stories in partnership with Dewey International University and five local child centered organizations. The project exemplifies what Kinyei is about: collaboration, cultural integrity, and utilization of social media.
Khmer Stories (https://khmerstories.kinyei.org/) collects traditional Khmer stories and legends with the aim of preserving, compiling, and sharing these folk tales. All the stories are illustrated by kids from around Battambang at Dewey International University, Tean Thor Association, Children's Future International, Village Focus Cambodia and The Slum Project.
Khmer Stories is part of the 5D club's worldwide network for collecting and sharing stories. More stories are coming soon, so continue to check the website!