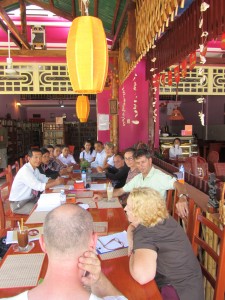 Jan Cornall travels the world teaching creative writing workshops. We're happy to have the chance to host her at the Open Workshop for two sessions on Tuesday, December 20, one on creative writing and another on zine production. Here are the details:
The Zen of Zine Making – 11am-3pm, 20 Dec
Get some pointers on the Japanese art of haiku (three line poem) and haibun (descriptive haiku like prose)  then learn how to make a simple zine (small hand made book) to put them in. Working with handmade papers,fabric and found materials learn how to use folding and oriental stitching to create different kinds of zines and mini artist books. No experience necessary – just a creative spirit and desire to play with words and paper.
Workshop schedule includes time for lunch.
Seize the Moment Creative Writing Workshop – 6.30pm-8.30pm, 20 Dec
Have you always wanted to write a collection of stories or poems, travel memoir, life story or play around with fiction or non-fiction? Are you already writing but need a shot of inspiration to keep you going? In a creative and supportive atmosphere find out where to start, how to progress and set realistic goals for finishing. Revise the essential elements of writing; learn how to find your writers voice, develop descriptive detail, create interesting characters and find the structure that will bring your story to life. Using meditative techniques discover how easy it is to access your creative source on a daily basis and leave the workshop with a plan that will see you completing your writing project within months. All genres, all levels of experience welcome.
About Jan
Jan Cornall is a Sydney based writer, performer and teacher who supports writers through the long process of realising their creative work. The author of fifteen plays and musicals, a feature film, three CDs of songs and a novel, Jan teaches creative writing at writer's centres, community colleges and universities in Australia and the Asia Pacific. Jan also leads writing retreats in inspirational locations: Bali, Fiji, Laos, Cambodia and the Australian desert. Dedicated to nurturing the unique attributes of each writer, each year a number of her students go on to publish with major publishing houses. www.writersjourney.com.au www.myspace.com/jancornall
Who's it for?
Any age, genre, experience level welcome. Workshop will be in English (volunteer translators welcome), participants are welcome to write in their own language.
How to register?
Workshop places are limited so please register your interest to ensure a place.
Please email workshop@kinyei.org with:
Your name: Organisation (if applicable): What do you want to achieve in this workshop:
Where
Kinyei Cafe St 1.5 Battambang Town
As always, participation in Kinyei Open Workshops is free of charge. Look forward to seeing you there!