We're ecstatic to share the news that Sakana Long has just been named the 2013 Cambodian Barista Champion this past weekend at the Sofitel Phnom Penh! Congratulations, Sak!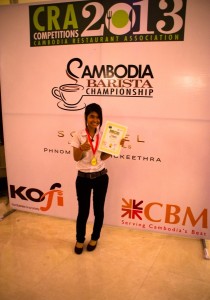 Sakana was the youngest and only provincial entrant in the competition dominated by participants from Phnom Penh, and was up against competitors from international coffee chains such as Gloria Jeans (3rd place) and Costa Coffee (2nd place). Sakana carries on the Barista Champion title for Kinyei in 2013 after Untac's win in 2012. We are so proud of Sak and the entire team for all of their hard work in preparing for the competition, and in their dedication to great coffee making!
"Yesterday when I get champion, I'm crying I'm so happy", Sakana's responded about her win on Monday.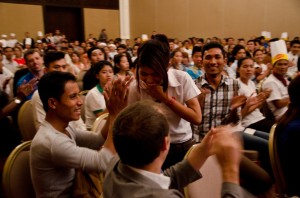 Living with her four siblings and grandmother in Slaket Village just on the outskirts of Battambang city, she joined Kinyei Cafe in December 2010 to earn a wage to support her brother completing high school whilst gaining some skills of her own.  When asked what she'd like to do next, she said she wants to learn how to taste coffee, fix the machine, continue to improve her barista skills and understand everything about how the coffee machine works. She also wants to learn about the picking, fermenting, roasting, and cupping processes.
And another bit of fantastic news – Untac, Kinyei's enigmatic barista, Soksabike tourguide and first place winner of last year's national competition went on to compete last month and place in the regional barista championships in Kuala Lumpur, Malaysia. Untac was invited to be a technical judge on the panel for the 2013 Cambodia competition.
We wanted to hear a bit more from Sakana about her experience over the past weekend: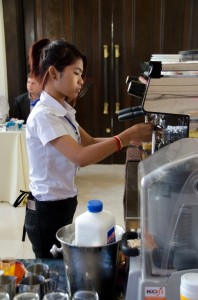 How did you feel while competing?
"In the first round I was so scared; I shaking a little bit, very excited and nervous at the same time. In the second round I was not so scared and was more confident but a bit nervous."
How did you feel when you won, when they announced your name?
"I feel like I'm so amazed, I never think about it; the first time I think I cannot do it, but after that, I can do it, you know what I mean?"
And what did Untac have to say? "There were 11 competitors from all over Cambodia this year and they're all getting one step forward, so everyone's getting much better than last year."
"The first round, I'm really nervous for Sak. At first her hands were shaking but she managed to make 12 drinks in 15 minutes – with just 2 seconds to spare, so rushed, but managed to squeeze in before time."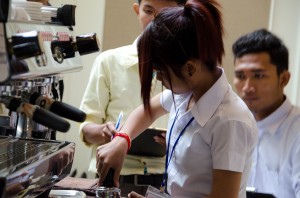 "And the second time, her performance was just so smooth. If you look at the performance, I just can't believe how she does that. Every movement is confident and she knows what to do and she's cleaning as she goes. And she says she's not nervous at all" Untac reported.
Sakana has already received some glowing feedback from the head judge about her capacity to learn and improve between the debriefing of the first round and her performance in the finals. "She took on board all the advice given to her to better her performance and raised the bar for Cambodia as a whole" says Ross Bright, World Barista Championship judge 2007-2008, current Speciality Coffee Association of Europe National Coordinator and Master Roaster for Spinelli Coffee Singapore .
https://sfy.co/bSSi – Check out our storify – a moment-by-moment account of the event told through tweets and images as it was unfolding!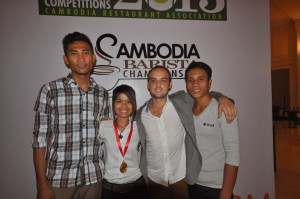 We're over the moon for Sakana and the team. Stay tuned for updates including the next steps for Sakana and Untac, representing the finest in coffee in all of Cambodia!