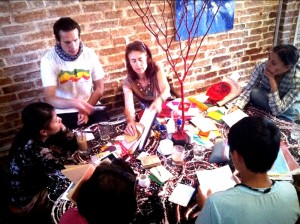 On December 20th 2011 Kinyei welcomed a new friend, Jan Cornall, who is from Sydney, Australia. She came and visited Battambang and Kinyei cafe'. During her visit to Battambang, she opened two different workshops. The first one was in the afternoon which was about the creative ways of making zines, crafts from paper. The other one was about creative writing. The workshops mostly encouraged people to think and be creative by making things and making decorations. It reduces stress and is also fun to see other people's creative ideas. We got different people attending from a different organisations who attended like GEMS International School, Children's Future International and Kinyei members and other friends. Katie who is one of Kinyei's Facilitators joined the Zine craft and expressed that the workshop is mostly a relaxed way, great and fun to do something creative with friends and others. She loves and enjoys finding beauty from normal things. It helps her to have more creative ideas with her project. And she'd love to do more crafting with group in the future.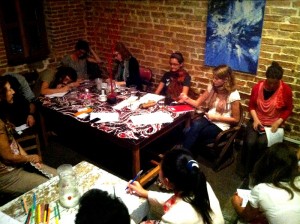 Elizabeth who is a psychologist from Switzerland and now working freelance in Cambodia, joined the creative writing workshop and said that she really liked how the teacher balanced directiveness and letting all participant to find their own way of creativity. "It was inspiring to see and exchange with other people's ideas."
Kinyei thanks to Jan Cornall who ran these workshops and hopefully we'll enjoy seeing and working with her on some more creative things again in January.