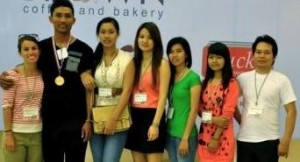 As some of you might have picked up on by now, two of Kinyei's original baristas Untec Nem and Sean Oun just got back from  Phnom Penh where they went with a small cheering contingent from the cafe to battle Cambodia's Finest (baristas) in the annual Cambodian Restaurant Association barista competition. There were 15 contestants, all from the capital, many representing big names like Brown, Gloria Jeans, and Sofitel.
And Untac won.
Now I'm not saying we didn't entirely expect this – Sean and Untac are passionate learners, they've had the very best of help from visiting barista volunteers and our long-time supporters over at Jasper Coffee, and both the guys did Battambang proud on the day, whipping up quality joe with aplomb, panache and poise – but given our relative isolation as a coffee house in Battambang and the strength of the competition, it was definitely "wildest dreams" material to hear one of our guys called to the stage to accept the gold.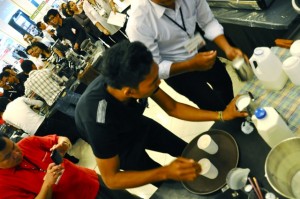 Their "signature drinks", developed for the competition by the guys themselves in collaboration with Battambang's small but loyal coffee drinking community are being chalked up on the board: Sean's viennese style coffee with chocolate and whipped cream (incidentally one of the few coffees in the comp a judge didn't just taste but polished off completely), and Untac's "street latte" – a cafe latte infused with traditional Cambodian "duk ompeu" or sugar cane juice pressed with Pursat oranges.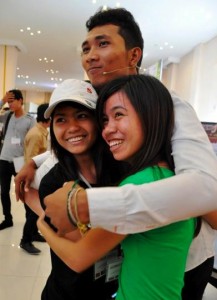 Apparently the next competition is in Singapore where national champions from all around the region will compete to qualify for the World Barista Championship. That's hugely exciting but for the moment, the team is enjoying the afterglow of the new sights, ideas and friends they found in Phnom Penh – a city many have only visited once or twice in their life.
So a huge thank you to all our supporters for your pledges, your well wishes and to those of you who have visited, your invaluable time and assistance – believe me it's paying off.